"We are locals", my father used to say every time I asked him where his grandparents, great-grandparents were from and my mother added: "my grandfather came from Agrafa and his name was Hatzinounis because he had gone to Hatzilik ( in the Holy Land) "and boasted about her family.

Great-grandfather NIKOLAOS MOSCHOU was born around 1825-1830 and had three other brothers. Dimitrios, Georgios and Poulios's father.

Until 21-4-1912 all generations kept the surname Moschos when they changed it (unknown for what reason). The descendants of Demetrius who married Thalassia changed their surname from Moschos to Psira. The descendants of George who married Evangelia changed their surname from Moschos to Hadjidiba. The descendants of the third brother whose name we do not know and his wife (we know that he was Poulios's father) changed their surname from Moschos to Fouskoti.

Nikolaos Moschos (my great-grandfather) married Sophia and they had six children (three girls and three boys):

- Snow who married Giannoulas,

- Flourou who married Terzoglou,

- Vassilou who married Tsifoutis,

- Paschali (later related with Tsioutsiouli family),

- Panagiotis (Panzio) and

- Evangelos (my grandfather) who was the last in the series and was born in 1870-1943. He married Evangelia Panag. Kargianioti (1875-1954) and had six children:

- Aggelos 1895-1960,

- Sotiris 1897-1997,

- Vassilis 1900-1921 (Battle of Chaos Tsaous Tsiflik),

- Chrysi 1905-1939,

- Theofanis 1908-1981,

- Achilles 1910-1988 (my father).

In 1919 my great-grandfather and his family moved from their paternal home, which was close to the stone bridge to the present house, which he bought from the Muslim Mehmet Kehagia in the Agios Georgios district near the village square. From 1894 with official documents (shops) he gives several fields to his son Evangelos, who then from 1908 onwards also buys fields himself. At the same time he buys plots of the church of Agia Paraskevi texts near the church of Agios Georgios. In 1923 he bought a large plot of land near the church of Agios Georgios, where he later built a three-storey building (Kapnomagazo). He also builds the warehouses inside their yard, which were initially used as wood and tobacco warehouses and today house the Folklore Museum.

The main occupation of the family was tobacco growing. He cultivates many Macedonian acres (one Macedonian acre equals 2,500 sq.m.) with tobacco and has working men and women from Halkidiki, mainly from Arnaia, who live at home and work in the fields for pay. At the same time he cultivates grains, barley, vines, plants orchards, legumes, sesame seeds, vegetables, everything that is needed to feed a large family. It is also involved in the timber trade. In 1929 she rents a warehouse in the company ASIATIK and gets the dealership for her products (petrol and other items). In 1931 he was appointed by SHELL as a representative for the sale and consumption of petroleum products. Both of his eldest sons are involved in these activities. In the beginning, they all live together in the new two-story house, that is, the grandparents with their children (and grandparents) who have grown up and got married, and little by little, everyone creates their own home and leaves. My grandfather lives with his grandmother and their last son, my father, who married in 1935 my mother Daphne Dimitriou Nouni. They work hard in the fields with the workers, the mother cooks for everyone, they have 9 children every 2 or 3 years. The boys are not lucky enough to live and we are left with 6 girls.

The father enlisted in the 21st Infantry Regiment and fought on the Albanian front for 7 months (5/10 / 1940-1 / 5/1941). In the difficult years of the war, the grandfather dies and the mother stays at home with the elderly grandmother and her three little girls, she has meanwhile lost her first boy. He has all the responsibility of the house, that is, the household, with the almost non-existent means of that time, as well as he has all the responsibility of working in the fields (in the plain as he used to say). A woman, my mother, with so much strength and will for life, family, work and household, oligarchic and always with a smile. She was happy in her kingdom, in her home. The father was a quiet, sweet man who admired and boasted about her. He was very proud of the woman he had, a rock woman, in front of him, he did not hurt her. And the mother, as long as she had the recognition, took so much power and gave it completely to the family. Many times he spoke about his grandfather, always in kind words. She admired him for being smart and her grandmother was a kind and good-natured person. With all relatives, neighbors, friends known, the relations were excellent and later with the grooms, in-laws, groomsmen and again new friends. An open house, a big hug for everyone and all this with a smile and a soul. They worked tirelessly until old age to give us as much as they could. But what we have received and are invaluable are the moral principles and values, good manners, courtesy and honesty. In the feeling of security and confidence that they offered us, we felt calm, peace and security. We always had their care and support, but we also shared their problems, which became common. With the harmonious family life, they transmitted to us good habits, manners, customs, respect for fellow human beings. It was the family that helped shape our character and love our home and our own special world.

This kingdom that they created with children, grandchildren and great-grandchildren continues to this day, while six generations have passed. This house is everyone's reference point.

We did our moral duty to preserve the history of the Ladia family with respect. I hope and wish the next generations to continue with the same love, because without our history it is as if we do not exist.
Family of Achilles and Daphne Ladia.

Ladias Evangelou Achilleas

1910-1988

Daphne Dimitriou Nouni

1913-2006

Engagement 10-06-1934


Marriage 03-03-1935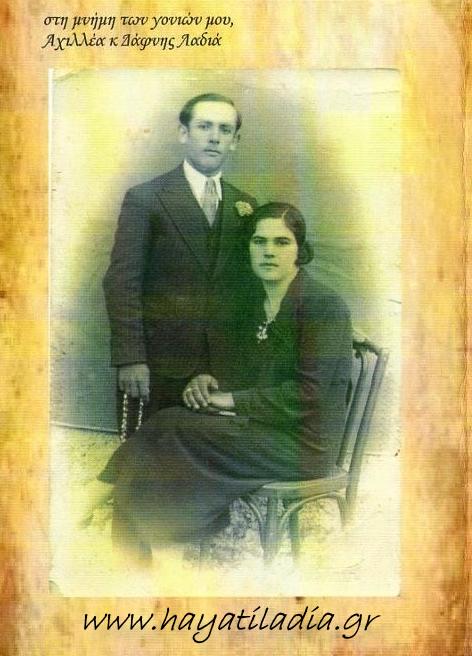 | | |
| --- | --- |
| Children: | Year of birth: |
| Panagiota Ah.Ladia | 1936 - 2018 |
| Euagellos Ah.Ladias | 1938 - 1939 |
| Xrusi Ah.Ladia | 1939 |
| Euagellia Ah.Ladia | 1942 |
| Sofia Ah.Ladia | 1946 |
| Euagellos Ah.Ladias | 1948 - 1948 |
| Euagellos Ah.Ladias | 1950 - 1950 |
| Dimitra Ah.Ladia | 1953 |
| Vasiliki Ah.Ladia | 1957 |